This past weekend was my first true venture out of the house since the pandemic slowdown began in mid-March, and it was great to be back in the gym again seeing many coaching friends, parents, and most importantly prospects. It was also the first chance for many of the below teams to open their grassroots season (a handful of teams played in early March before the shutdown). Saturday I headed to Noblesville for the USJN Mid-America Qualifier, while Sunday I was in Fort Wayne for the Gym Rats Summer Tune-Up. I saw a variety of teams, and below is a look at several prospects from the 17U teams I was able to see over that two-day stretch. If a team you follow was there and I didn't get the opportunity to see them, I will seek them out in the next few weeks.
Indiana Attack Basketball Club (IABC) – Leek
This team might not have the headliners of some of the shoe company teams, but they are incredibly scrappy and proved they will battle whoever they face. The biggest "name" on the roster is Mercedes Rhodes Mercedes Rhodes 5'8" | SF Oregon-Davis | 2021 State IN (2021) of Oregon-Davis. The 5-8 wing had an outstanding Winter, earning a spot on the Junior All-Star team. She was solid Saturday and showcased her length, fluid athleticism, and ability to score it at all three levels.  Danielle Jenkins Danielle Jenkins 5'6" | CG Wawasee | 2021 State IN (2021) of Wawasee was a lightning bolt of energy all day. She's a very athletic, what I like to call "soccer" quick/fast, 5-6 combo guard. She is aggressive offensively and defensively, as she scores it from all over the floor and causes turnovers for opponents. I also really enjoyed watching Mia Naman (2021) of South Bend Saint Joseph play. She was a new name to me, and I thought she stood out. She has good length, fluid athleticism, a nice motor, and she showed a balanced skillset as a 5-7 combo guard.
Indiana Elite Havoc – Myers
While this team is part of the Indiana Elite program, it is based out of Eastern Illinois and incorporates mostly Illinois preps. However, this 17U group rosters four Indiana prospects, and three were in attendance. 5-4 Anslee Michael (2021) of Terre Haute North Vigo played with a great deal of energy. She's a quick/fast combo guard, she flies around, and she is a playmaker at both ends of the floor. She can run/create offense, get through the lane, and find open teammates. She's also a pest defensively. I was really impressed with my first chance to see Parke Heritage's two juniors-to-be. Hannah O'Brien (2022) is a 6-1 post, she has great length, wiry strength, and she moves around the floor very well. She has really good awareness on the back end defensively, and she works hard to gain position offensively. She didn't see the ball much, so in the future I would like to see how well she scores it. Classmate  Grace Ramsay Grace Ramsay 5'11" | SF Parke Heritage | 2022 State IN (2022) was equally intriguing. She is an extremely long, fluid, and somewhat smooth 5-11 wing. She ran the floor well and showed versatile skill. As she finishes growing and adds strength, I think her game will only improve. One additional Illinois prospect who stood out to me was 5-11 combo forward Madyson Hill (2021) of Vandalia High School. She is a very nice athlete with length and wiry strength, plus she showcased the skill and ability to play in the mid-post or around the perimeter.
Indiana Flight UA Rise – Perry
This Flight group has a really nice mix of small college prospects. Their strength is probably on the interior, though. 6-1 post Bailey Stamper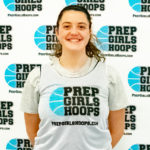 Bailey Stamper 6'1" | C Triton Central | 2021 State IN (2021) of Triton Central was outstanding when I was able to see her. Bailey is a strong, physical, traditional center, but she showed an improved ability to knock down face-up jumpers with range near '3'. She always plays with an incredible motor, and she gets about as much out of her ability as anyone in the class. I felt like 6-0 post Haley Scott (2021) of Western helped Stamper form a nice 1-2 punch inside for the Flight. This was my first time seeing Haley, and she was strong, physical, and really good around the rim. Not a post, but another player with height who stood out was 6-0 wing Kylee Stepp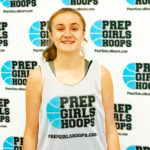 Kylee Stepp 6'0" | SF West Vigo | 2021 State IN (2021) of West Vigo. She is extremely long, wiry strong, and has proven to be an accurate perimeter shooter. She can play effectively around the perimeter or in the mid-post, and that versatility at 6-0 will be coveted by schools recruiting her. Two more prospects I always enjoy watching are 5-11 Emily Wood Emily Wood 5'11" | PF Noblesville | 2021 State IN (2021) of Noblesville and 5-10 Kylee Appman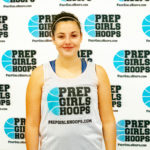 Kylee Appman 5'9" | PF Heritage Hills | 2021 IN (2021) of Heritage Hills. The two power forwards always come to battle and play much bigger than they are.
Indiana Flight – Duke
You know travel ball is officially underway when you see Coach Duke out and about with his team. This season he has one of his most versatile, well-balanced teams I can remember. 5-9 guard Maycee Woods Maycee Woods 5'9" | SG Plainfield | 2021 State IN (2021) of Plainfield has been a staple in his lineup for some time, and she was again really good at both ends of the floor. She's starting to handle the ball a lot more, and she should see a similar role in two years at Taylor University, where she has given a verbal commitment. I am also a fan of  Chloe Gould Chloe Gould 5'7" | PG Danville Community | 2021 State IN (2021) of Danville Community High School. The 5-7 point guard is a really nice defender both on and off the ball, plus she has really developed her handle and perimeter jumper over the years. High School teammate Maddie Patterson Maddie Patterson 5'9" | SF Danville Community | 2021 State IN (2021) is another nice wing who can score the ball from the perimeter or in the mid-post. She's a really nice 5-9 shooter from most spots on the floor, plus she plays hard and will battle some inside. 5-7 combo guard  Karly Kirkpatrick Karly Kirkpatrick 5'7" | CG East Noble | 2021 State IN (2021) is one of the better "finds" in the state. She is a high-energy, fairly athletic, versatile guard who doesn't do anything elite, but she has no real weaknesses and is a willing defender.
Indiana Flight – Long
One common theme you're going to see in regards to 17U teams in Indiana, is that they are all fairly scrappy, and this Flight team is yet another. I have always been a big fan of 5-9 point guard  Taylor Cooney Taylor Cooney 5'9" | PG Greensburg | 2021 State IN (2021) of Greensburg. I think the combination of her length and ability, paired with her ability to control tempo, sense tone, and take care of the basketball, should be valued a lot more than they probably are. She is the truest definition of a pass-first point guard. 5-11 power forward Paige Ledford Paige Ledford 5'11" | PF Jac-Cen-Del | 2021 State IN (2021) of Jac-Cen-Del is a new addition to the roster this month, and she was really good. She has such a soft lefty touch, and it now extends consistently to the 3-point line. She plays extremely hard, she'll be physical inside, and she rebounds everything. I also thought 5-7 guard  Emma Litzelman Emma Litzelman 5'7" | SG Cardinal Ritter | 2021 State IN (2021) of Cardinal Ritter and 5-10 forward  Madison Gray Madison Gray 5'10" | PF Union County | 2021 State IN of Union County had good moments. Litzelman plays with so much energy, length, and speed. Gray is a versatile forward who can play inside and use her athleticism to score, but she's also skilled around the perimeter and in the mid-post.
Indiana Showcase Junior Stars – George
This Showcase group is led by their backcourt duo of  Indiah Kendrick Indiah Kendrick 5'6" | PG Avon | 2021 State IN (2021) of Avon and  Ella Hobson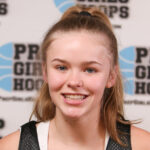 Ella Hobson 5'4" | PG Center Grove | 2023 State IN (2023) of Center Grove. Kendrick is an extremely quick/fast and shifty 5-6 point guard. She is very creative off the dribble and can get through the lane just about anytime she wants. I also think she can become an elite defender. The 5-5 Hobson, while young, plays with a veteran savvy and toughness. She is an accurate perimeter shooter with a quick release, but she also has a nice handle and the ability to make plays off the bounce. I also think the interior pair of Quinn Kelly Quinn Kelly 5'11" | PF Greenwood Community | 2022 State IN (2022) of Greenwood Community and Kaylee Carte (2021) of Mooresville are tough when they're in together. Kelly is a really nice, wiry strong athlete with a good motor and skill anywhere inside of the arc. She can play around the block or in the mid-post effectively. Carte is a strong, powerful, high-motor "big" who seeks contact but also has good mid-post skill. She has soft hands and can finish around the rim with either hand.
Indy Magic BlueStar – Blanding
The top Magic team got off to a quick start Saturday, easily handling both opponents they faced. I was really impressed with the play of 6-1 wing  Kate Clarke Kate Clarke 6'1" | SF Carmel | 2022 State #56 Nation IN (2022) of Carmel. She has always been one of the most skilled, most talented players in Indiana's 2022 class, a Top-60 kid in our 2022 national rankings, but I really liked how she approached playing against inferior competition and was on attack constantly. I don't remember her missing a shot either. She knocked down 3s, pull-ups, and got to the rim and finished. I also felt like 5-5 point guard Teresa Maggio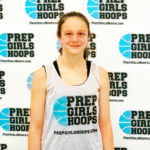 Teresa Maggio 5'5" | PG McCutcheon | 2022 State IN (2022) of McCutcheon played very well. She is always a ball of energy flying around the floor, and she was also in attack mode, getting into the lane and collapsing defenses. 6-2 forward Bridget Dunn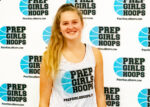 Bridget Dunn 6'3" | PF Carmel | 2021 State IN (2021) of Carmel continues to gain strength and absorb contact better inside. She has always possessed very good perimeter skill at her size, but she's going to have to play in the mid-post and around the low-block a little at the next level, so it's good to see her playing as well as she is inside. Bridget has already committed to Kent State University. Lexi Shelton Lexi Shelton 5'8" | SF Mt. Vernon (Fortville) | 2021 State IN (2021) of Mount Vernon (Fortville, IN) is a nice new addition to this lineup. She's a strong, physical 5-8 forward who can play inside when needed, but she handles it like a guard and she can really shoot it with range beyond the arc. That versatility offensively should help this team all Summer.
Indy Magic – Andrus
The Magic program welcomed several new girls onto this team, and most of them had nice moments Saturday. However, it was Magic returnee MyKayla Moran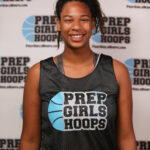 MyKayla Moran 6'2" | C Hamilton Heights | 2022 State IN (2022), a 6-3 post from Hamilton Heights, who I felt had the best day all-around. Her motor was strong, she was assertive at both ends of the floor, but what was most impressive was her scoring instincts. Instead of catching and thinking her way through post-moves, like in the past, she looked natural scoring the ball on the block now. She will have a lot of Division-I interest once coaches are able to see her again. I was also really impressed with the improvements of 5-3 point guard Abby Worley (2021) of Mount Vernon (Fortville, IN). She is a strong point guard, but she was also in control the entire day, rarely turning it over. She can knock down an open jumper, and she plays with a good motor. Another player who found her rhythm Saturday evening was Ella Shields Ella Shields 5'9" | SF Hamilton Heights | 2021 State IN (2021) of Kokomo. The 5-9 wing made several 3-pointers, a couple of which were contested, and showed she'll be ready to contribute next year for the Wildkats. Another nice prospect to keep an eye on is 5-7 guard Daylynn Thornton Daylynn Thornton 5'8" | CG McCutcheon | 2021 State IN (2021) of McCutcheon. She's a strong, athletic guard who does a little of everything well. She can play either guard spot and can score it at all three levels.
Lady Legit – Gorman
This Lady Legit squad has a nice combination of 2021s and 2023s. 5-9 wing Tyra Ford Tyra Ford 5'9" | SF Anderson | 2021 State IN (2021) of Anderson has always been a favorite of mine to watch. She is long, a nice athlete in all directions, and she plays with a great motor. I've said it about her before, but she might be the best pound-for-pound rebounder in the state, regardless of class or position. I also really like Shabrea O'Quinn Shabrea O'Quinn 6'1" | C Fort Wayne Wayne | 2023 State IN (2023) from this team. She has broad shoulders, a strong frame, and at 6-1 she really owns the interior. She moves well for her size, plays with a solid motor, plus has good hands and can finish around the basket. 5-4 guard Aliyah Holbrook (2023) of Fort Wayne South Side was another new name for me, and the combo guard showed a nice combination of fluidity and athleticism, while also playing solid at both ends of the court. This group should be aggressive out on the floor defensively, especially with O'Quinn behind them protecting the paint.
Midwest Elite EYBL – Gesualdo
A program centered out of the Chicago area, Midwest Elite has a roster of high-level prospects from four different states. They were maybe the most impressive full team I saw all weekend. 5-7 point guard  Courtney Blakely Courtney Blakely 5'7" | PG Hammond Bishop Noll | 2021 State IN (2021) of Hammond Bishop Noll is the lone Hoosier on the team, and she is in her second year with this squad. She does a really nice job of finding her Elite teammates in positions to score the ball. While they had a pretty easy day Saturday, Courtney made a tough, contested, deep 3-pointer from the right wing to end the first half of one of their contests. 5-8 point guard  Kamorea Arnold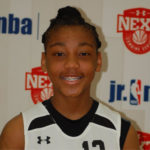 Kamorea Arnold 5'10" | PG Germantown | 2023 State #8 Nation WI (2023) of Germantown High School (WI) was outstanding. Considered a Top-10 prospect nationally in the 2023 class, "K.K." was explosive in all directions, dynamic off the bounce, and got inside to finish with either hand at different angles. She hit shots outside as well, plus she showed the talent to be a top-tier defensive player. I thought 6-3 power forward Ally VanTimmeren Ally VanTimmeren 6'2" | PF Jenison | 2021 State #87 Nation MI (2021) of Jenison High School (MI) looked very impressive on the interior. Last year I thought she settled for a lot of long jumpers, and she hit a few Saturday, but she was more physical and dominant on the interior early on. With her size, athleticism, and skill, she will be a nice fit at Boston College, where she has already committed. Don't forget about 6-0 combo guard Greta Kampschroeder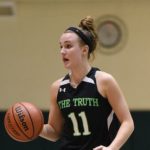 Greta Kampschroeder 6'0" | SG Naperville North | 2021 State #10 Nation IL (2021) of Naperville North High School (IL) or 6-2 forward  Taylor Charles Taylor Charles 6'1" | SF Burlington Central | 2022 State #54 Nation IL (2022) of Burlington Central High School (IL). They are top prospects from Illinois, and both had solid days. Kampschroeder is our PGH #10 nationally ranked prospect in 2021, and she always plays with a great motor, good skill, and a nice basketball IQ. Greta has already committed to Oregon State University. Charles is a Top-60 prospect in the Class of 2022, and she is a versatile inside-out forward. She is still a little thin, but she has great mobility plus good skill in the mid-post and around the perimeter.
Nike Lady Gym Rats – Shelt
This roster took on a makeover, even leading up to the event yesterday. When it was all said and done, they are long, athletic, and aggressive at both ends of the floor. The most impressive prospect was 5-8 guard Bralee Trice (2021) of Moline High School (IL). She is a strong, physical combo guard who can shoot/score, handle and run offense, or create opportunities for teammates. She will surely draw a variety of Division-I, Division-II, and high-level NAIA interest. I also thought 5-7 point guard  Courtney Fields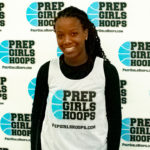 Courtney Fields 5'7" | PG Cathedral | 2021 State IN (2021) of Cathedral stood out. She plays with good pace, is creative off the dribble and can glide to the basket, but she also knocked down shots and found open teammates. Two Bluegrass prospects also played well at times.  Sydney Raque Sydney Raque 5'11" | SG Christian Academy Louisville | 2021 State KY (2021) is a 5-7 shooting guard from the Christian Academy of Louisville (KY), and Lexi Starr (2021) is a feisty little 5-6 combo guard from Bullitt East (KY). Raque did a nice job of finding openings on the wings and knocking down rhythm jumpers, while Starr flew around the floor and made hustle plays on offense and defense.